Name: Trade Mania 2
Release Date: 16 April 2013
Developer: Dekovir Entertainment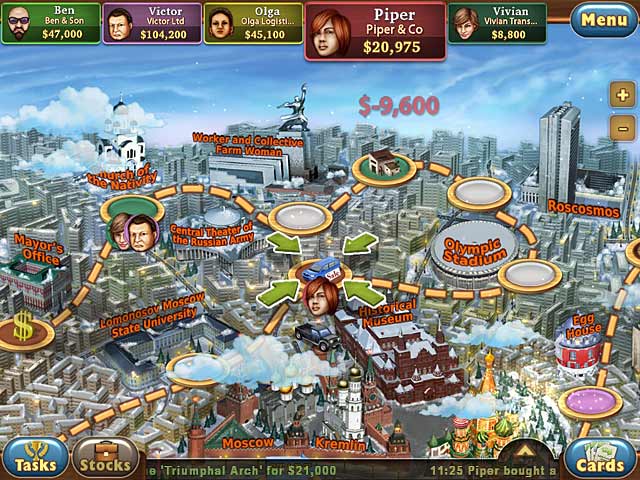 Trade Mania 2 takes on a twist of the world's classic board game "Monopoly". It plays like Monopoly with some new features and a more attractive designed board.
As mentioned, Trade Mania 2 is a board game where you have to play against your opponents. The gameplay is very straightforward although the tutorial is not very clear so some might get confused easily. You roll the dice, move ti another spot, buy or bid the place and trade. The 'trade' feature is what makes Trade Mania 2 different from other Monopoly-style board games, the goal is to buy products at low price from a city and sell them at a higher price at another city to gain the maximum profit out of them. By the way, the car or truck that is needed to carry your products can also be upgraded if you landed on the Vehicle spot on the board - pretty interesting. The main target of the game is for you to own over 75% of the places on the board - it might sounds easy but it is actually will take you sometime to get to it.
Apart from normal spots on the map where you can move to, some spots are event spots such as pay taxes, or some unexpected events just to spice up the game a little. On the spinwheel (in other words, the dice); there is one section reserved for Events, whether the event you going to get is good or bad, it is just your luck. Moreover, there are a few special cards which are very useful such as cards that can be used to subtract or add number of moves you get to make sure you landed on the willing spot or a card that cut the price of the products or the vehicle and many more.
The game consists of three boards across three different cities, each both is unique and different from each other in terms of look and locations. Speaking of the look of the game, Trade Mania 2 looks very good because the graphics are sharp and very colorful. In addition to that, you also get a customizable mode where you can set up your own board and play against your friends in real life.
In the end, Trade Mania 2 is a major improvement over its predecessor. It is very entertaining, looks great and plays great - it is surely one game that you would like to keep on your desktop.
Graphics: 4/5 Stars
Sound: 4/5 Stars
Originality: 4/5 Stars
Interface: 4/5 Stars
Gameplay: 4.5/5 Stars
Fun Factor: 4.5/5 Stars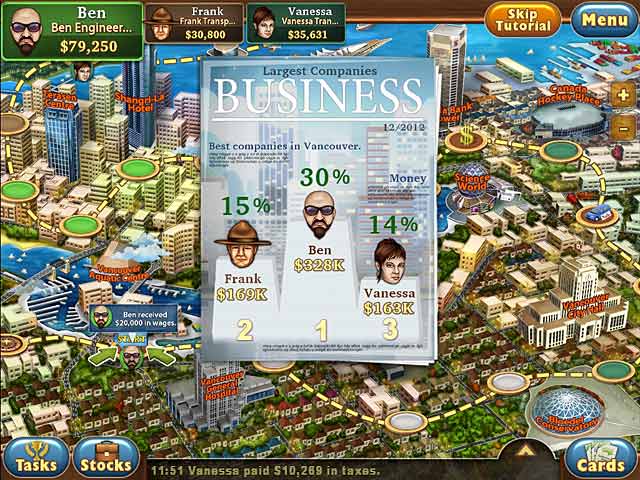 Rating: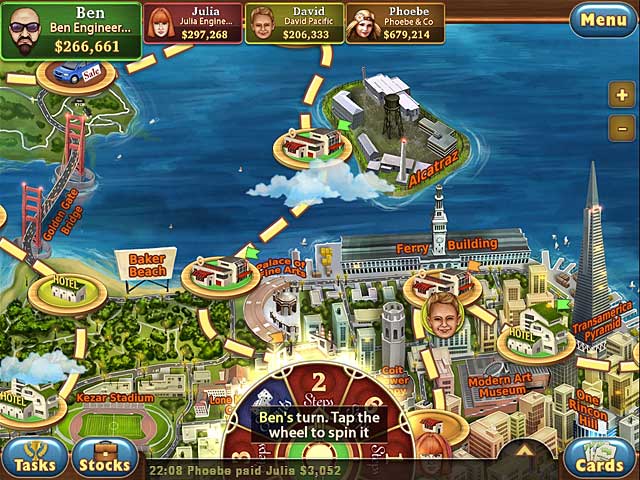 Looking for similar games? We recommend:
-Trade Mania
-
Monopoly
-
Be Rich
Share This: