Name: Gardens Inc.: From Rakes to Riches
Release Date: 19 March 2013
Developer: Intenium/World Loom/Nitreal Games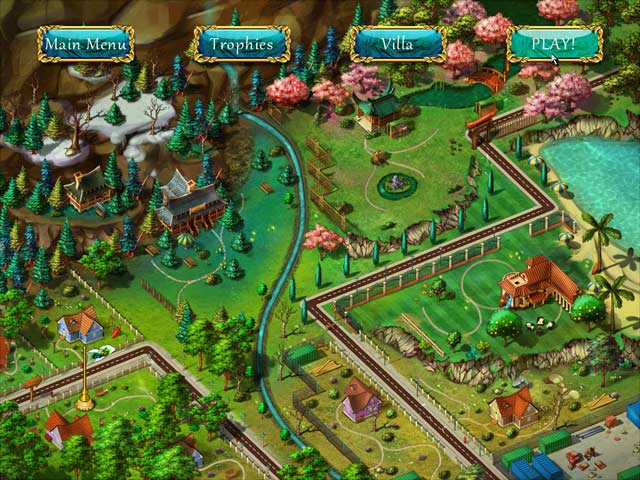 It could be said that Resource Management/Building type of Time Management genre is a close runner up to the Hidden Object Adventure game genre to be the most popular genre in the casual game market. Most of them are not so interesting, from times to times, you have to rebuild kingdom (no matter, ancient or modern) or restore your tribe. However, Gardens Inc.: From Rakes to Riches is a resource management game like never before!
Instead of building kingdoms or tribes, in Gardens Inc.: From Rakes to Riches you have to build a garden! The concept is surely nice and interesting because apart from collecting woods, tools and other essential resources; you also have a chance to plant some flowers of your own choice. Anyway, there is a Bonus reward given if you can choose the right choices of flowers to plant according to the clues given by the garden owner. Other aspects of gameplay are typical and fast to learn; clear paths, build stations, collecting resources, upgrading, add workers and so on.
The incredibly entertaining gameplay of Gardens Inc.: From Rakes to Riches is further enriched by the colorful and beautiful graphics. Even though the main color in Gardens Inc is green (of course, it is garden!); the yellows, pinks and reds help lighten up the scenes. Gardens Inc is one of those few resource management games that the story doesn't leave you after the introduction; after a number of levels, the secrets of the main character's grandparents would slowly revealed which keeps the game fresh and interesting all the time.
We also love the idea that each level in Gardens Inc is different from each other unlike in some other games in the same genre in which all levels are alike. The levels are challenging and those advanced players would be glad to know that getting Gold Medal is not an easy task!
What Gardens Inc suffered from might be from the tiny glitches in the level design; these annoying glitches sometimes cause you to restart the level because you basically hit the dead end.
All in all, Gardens Inc.: From Rakes to Riches is a lively and creative resource management game filled with attractive graphics and good story.
Graphics: 4.5/5 Stars
Sound: 3.5/5 Stars
Originality: 4/5 Stars
Story: 4/5 Stars
Levels: 3.5/5 Stars
Interface: 4/5 Stars
Gameplay: 4.5/5 Stars
Fun Factor: 5/5 Stars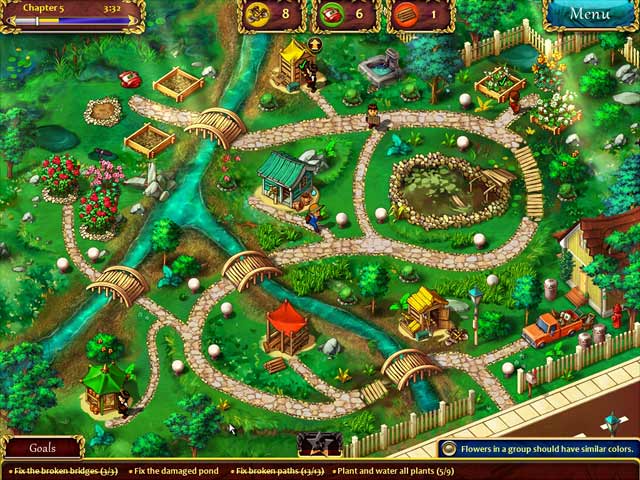 Rating: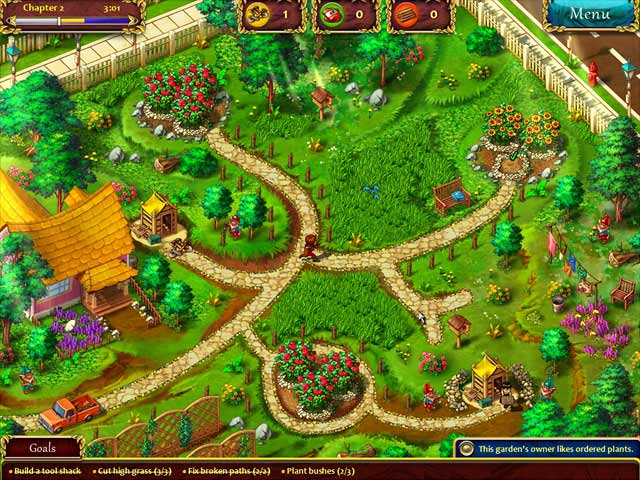 Looking for similar games? We recommend:
-
Island Tribe 4
-
Kingdom Chronicles
-
Garden Dash
Share This: