Name: Pet Store Panic
Release Date: 20 February 2013
Developer: Ludometrics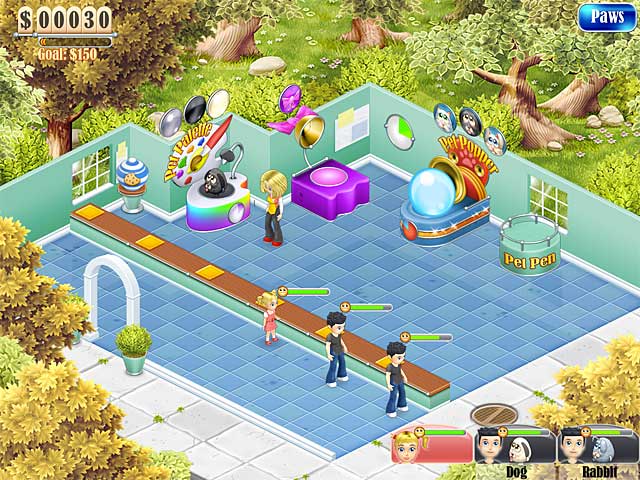 We almost scream with joy when we found out that there is a new Dash-style Time Management game approaching. We expected it to be so great, only to be (very) disappointed.
If there is anything we can praise about Pet Store Panic, that will be its graphics. Even though a little flat, they are colorful and presumably attractive. The customers look nice and not ugly while the fast, round pets look very cute indeed.
The comes the bad part. In Pet Store Panic, you will be running a weird pet shop in which there is a machine that can simply pop out animals just as the customers want. There is even a machine to dye or paint the animals, maybe the developers were just tried to being imaginative but we just didn't get it. The gameplay is as simple as any time management games, customers order, then you serve them with the right pet. There are also chain bonuses to complete to earn bonus money, if they are even possible.
The upgrading shop appears to be nice but you basically need to choose the right thing to buy! Often you will regret what you have bought because the levels just get into 'panic' so quickly that you would think you should buy another machine or upgrade the other one instead. As we said, Pet Store Panic is a difficult game - maybe overly-difficult. The game is timed and does not offer any untimed or less challenging mode, it is not too difficult to pass a level but it is almost impossible to score an expert.
One of the major problems Pet Store Panic suffers from is the clarification between different types of pets. All pets, from dogs, cats to rabbits look extremely similar. Sometimes you can't help but to waste your time hover over the animal icon just to look at its name. This starts to get very frustrating when the dyeing machine has been introduced; it is hard enough to separate a cat from a dog, but also to change their color? Moreover, there is not Trash option or Delete option in this game, so once you did something wrong - restart the level might be the best choice. Plus, the tutorial is unclear - it misses many useful instructions and once a new machine is introduced, you have to figure things out on your own.
When it is the time when Hidden Object games flood the market, Time Management games are rare and when there is one - it is not up to the standard. Pet Store Panic might has a cute concept but the whole thing is just flawed; confusing gameplay, difficult levels, lack of tutorial. It is one of the pet stores we wouldn't dare to enter.
Graphics: 3.5/5 Stars
Sound: 3/5 Stars
Story: 2.5/5 Stars
Gameplay: 1.5/5 Stars
Features: 1.5/5 Stars
Upgrades: 1.5/5 Stars
Control and Navigation: 2/5 Stars
Fun Factor: 1.5/5 Stars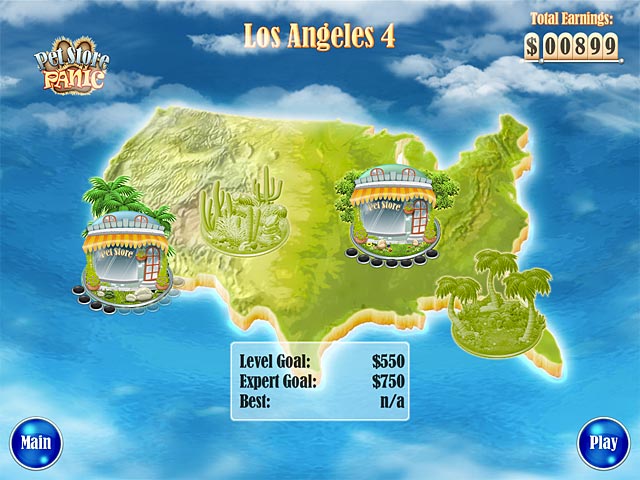 Rating: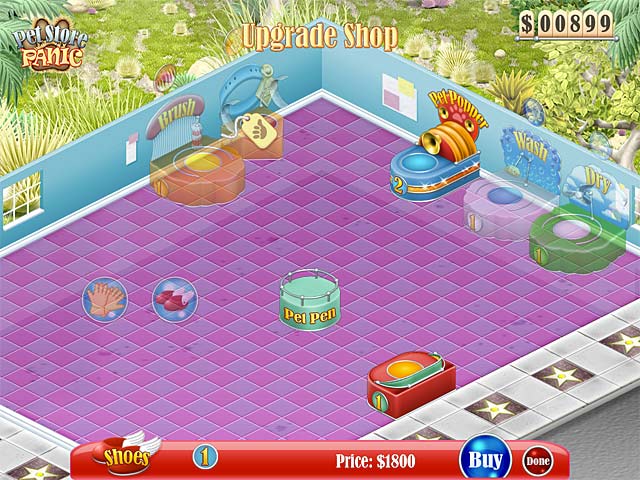 Looking for similar games? We recommend:
-
Paradise Pet Salon
-
Pet Playground
-
Dead Hungry Diner
Share This: