Name: Be Richest!
Release Date: 05 August 2012
Developer: Divo Games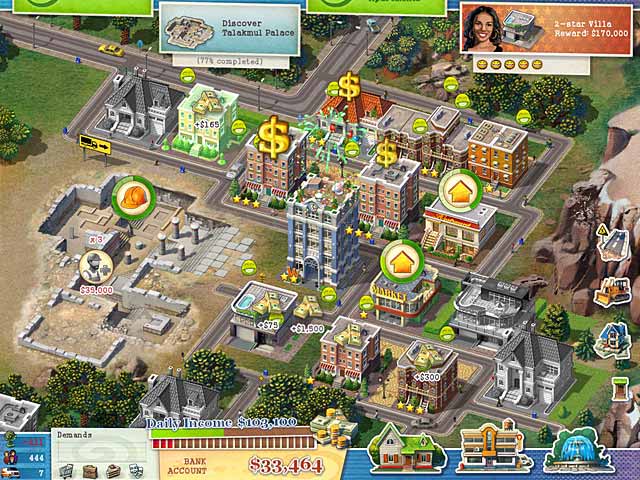 Well, it's a relief that this game is not another kingdom-building game or that you have to travel back in time to rebuild the kingdom, whatever! Be Rich series is a promising Time Management/Building series which set in a modern world, both
Be Rich
and
Be Richer
were very entertaining and so Be Richest is a slight disappointment! The game has an interesting story which involves corrupted government and you have to bring your city back to prosperity and make the citizens happy, although the story is pretty thin but the main idea is still very nice. Graphics and music are both very well done, graphics are colorful and very crisp while music is also relaxing. The gameplay is similar to Build-a-Lot series, where you have to build, repair, upgrade buildings both for living and commercial in order to fulfill the tasks given. In this game there're also several extra tasks, you don't have to complete those, but they can give you extra money! Once you finish playing each level, no matter you got gold or silver medal, you can always replay it or continue playing it if you wish, there's also many collectibles to collect by replaying levels. These collectibles will be used to buy what they called "Super Blueprints" to improve the living of your city! So far so good right? So why we said earlier that this sequel is slight disappointment? The reason is that this game is very irritating, it involves huge amount of clicking whether to click continuous to speed up the building progress or to click continuous to scare off the rats, paparazzi, yetis, thieves or whatever that break in to people's houses. This could be good idea, but what not so good is that they pop up too frequent, sometimes they just pop up 2 or 3 at a time and once you finish clicking one, the others already scared citizens off! In addition, the tutorial is unclear and sometimes it just leaves you to figure what to do by yourself! Also, apart from several non significant new features, this sequel is basically a remake of the first two with improved graphics and interface. We're not saying that the game is not fun, it's still entertaining and addicting, but it can also get very irritating as well!
Graphics: 4.5/5 Stars
Sound: 4/5 Stars
Story: 3.5/5 Stars
Gameplay: 3.5/5 Stars
Features: 3.5/5 Stars
Upgrades: 4/5 Stars
Control and Navigation: 2.5/5 Stars
Fun Factor: 4/5 Stars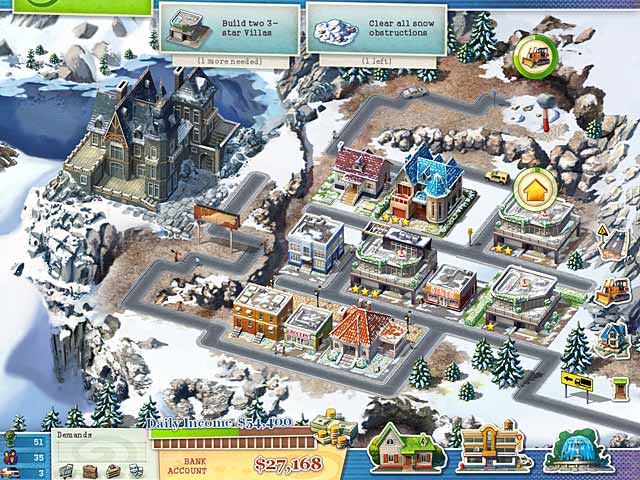 Rating: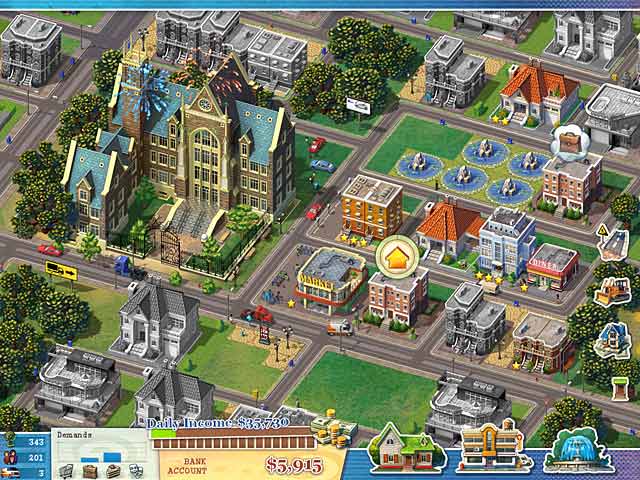 Looking for similar games? We recommend:
-
Build-a-Lot 2: Town of the Year
-
Campgrounds
-
The Golden Years: Way Out West
Share This: